---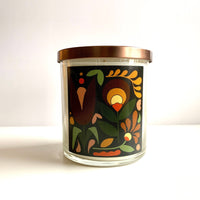 Nest Soy Candle
Northwest Sparks
This candle is a collaboration between Northwest Sparks and Red Umbrella Design. It represents Autumn with a fusion of dried herbs and amber, as well as intoxicating notes of musk and sandalwood. This is the perfect scent to curl up with a fire.
Each of these soy candles is hand poured into a reusable glass container using the highest quality, US-grown soy wax available and an eco-friendly woven cotton wick. The 8.5 oz glass container comes with a bronze lid. These lids have an elegant brushed metal finish that gives the lid a distinct polished look. Includes an inner silicone fitment to help secure the lid to the jar.​
These products are free of phthalates, dyes, lead and provide a long, clean, eco-friendly burn. All materials are produced and grown in the U.S.
Approximate burn time: 8.5oz: 60+ hours for medium sized rooms
Handcrafted for us right here in Washington state by Kim Sparks of Northwest Sparks. Kim is an environmental biologist and lover of the outdoors. She is committed to creating sustainable products using soy wax and cotton wicks - no yucky petroleum byproducts here! All candles are created with love without harmful phthalates, lead, or dyes that can be common in candles.