---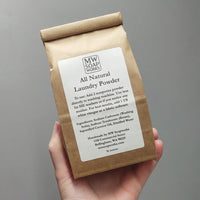 All Natural Laundry Powder - Unscented
MW Soapworks
Looking for ways to make your home cleaning more eco-friendly? Look no further! We've finalized our All Natural Laundry Powder and are ready to share it's glory with you! Simply add a small amount to your laundry machine and leave it to work it's magic! Our formula will leave your laundry fresh, without sending any yucky chemicals down the drain or leaving them on your clothes.
To use: Add 2 teaspoons powder directly to washing machine. Use less for HE washers or if you notice any residue. For best results, we recommend adding 1 tablespoon white vinegar as a fabric softener.
This 16 ounce bag will give you enough detergent to do anywhere between 40 - 80 loads of laundry, depending on your usage preference. Andrea likes to use only a teaspoon and often gets up to 80 loads from a single bag.
Ingredients: Washing Soda, Borax, Saponified Coconut Oil, Distilled Water
Available in a 16 ounce compostable bag.
This soap is made using a wooden mold using the traditional cold process soap method. We always make our soaps in small batches to ensure quality and never put anything in our soaps that we wouldn´t happily put on our skins ourselves. Every recipe is tested and approved!
As this is a homemade soap and at the mercy of the chemical process of soapmaking, each batch may vary slightly in appearance and some settling may occur in the powdered formula.