---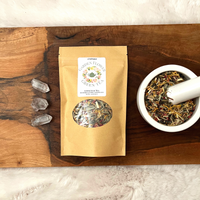 Garden Flower Green Tea
Lit Rituals
Around the world, tea ceremonies are part of everyday life. From the manner in which it is prepared, the tools used to brew it, to the relaxation the herbs induce, tea is a beverage that generates communities through sharing a pot and peaceful solitude sipping a cup in your cozy home.

This Fair Trade green tea leaves are infused with organic flower petals and herbs that enhance and compliment the flavor profile of crisp and light green tea.

Garden Flower Green Tea is a 2oz pouch of Fair Trade, loose leaf tea with leaves that are carefully hand rolled and then pan-fried. The pan-fried leaves produce a highly fragrant, yellow-greenish brew with a distinctive, sweet flavor, and are known for their plum-like sweetness and smoothness. The flavor is refreshing, crisp & light with hints of lemon & rose. To enhance these flavors Lit Rituals has added organic flower petals and herbs of rose, calendula, and lemongrass.
Made for us by the fine folks at Lit Rituals, based out of Fairfield, California. Founders Caitlin and Christina strive to create products that are environmentally friendly that won't irritate your lungs. Their ingredients are organic, sustainably wild-harvested, and sourced from local farms.