---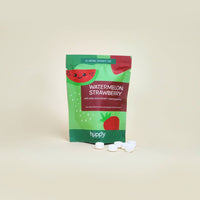 Kid's Toothpaste Tablets - Watermelon Strawberry - Refill
Huppy
Huppy Kid's Toothpaste Tablets made with Watermelon Strawberry are a toothpaste alternative that naturally whitens, fights plaque, and freshens breath without adding more plastic waste to our environment.
These pouches are intended to refill your reusable container and are home compostable & made from paper. Tablets are made with clean ingredients like peppermint oil, coconut oil, aloe vera extract, and xylitol, and contain nano-hydroxyapatite, a non-toxic fluoride alternative that remineralizes tooth enamel & helps fight sensitivity.
Recipients of multiple beauty awards from Women's Health, Heathline, and SELF, Huppy's Toothpaste Tablets are also vegan, non-GMO, and cruelty-free. Tablets foam easily and are super easy to use: chew, brush with a wet toothbrush, and rinse.
- 62 Tablets - Kid-Friendly - Clean Ingredients - Home Compostable - Mint-Free - Non-Chalky - Award-Winning - Plastic-Free
Huppy is an AAPI owned business based in Los Angeles, California. Huppy was created by environmentalists looking for ways to eliminate plastics and chemicals in their daily routines. They give back to environmental causes and use only vegan, cruelty-free, and ethically sourced ingredients. We love their products and are so proud to partner with them!