---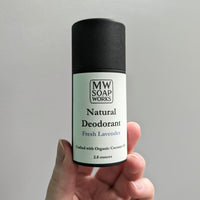 Natural Deodorant - Fresh Lavender
MW Soapworks
We're ditching the plastic tubes - our beloved Natural Deodorants now come packaged in beautiful compostable paper tubes! Easily dispense product by pushing up for the bottom disk.
Our Natural Deodorant is formulated with Organic Coconut Oil, Arrowroot Powder and Baking Soda to help naturally absorb sweat and neutralize odors. Currently available in Unscented, a soothing Lavender and Tea Tree Oil, or a tropical Coconut Lime.
This listing is for one 2.8 ounce Fresh Lavender Natural Deodorant.
Ingredients: Organic Coconut Oil, Shea Butter, Beeswax, Arrowroot Powder, Baking Soda, Lavender Essential Oil, Tea Tree Essential Oil
Concerned about using a paper tube deodorant? We've found that our formula works well with these tubes but if your deodorant ever gets stuck, simply roll the deodorant tube on a flat surface while applying slight pressure as you roll to unstick.
As a natural deodorant, this product won't completely prevent perspiration. We don't want to stop perspiration anyway, as this is an important function to rid our bodies of toxins.
If you are just making the switch to natural deodorants from an antiperspirant, you may notice more sweat than usual. This simply means that your body is adjusting to your new deodorant and may need a little time to normalize.