---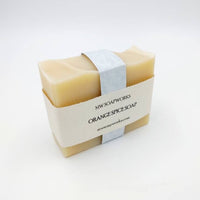 Orange Spice Soap
MW Soapworks
Our Orange Spice Soap bar smells like refreshing oranges with a hint of spicy clove. The delightful aroma really comes out when the soap is wet!
Gentle enough to be a whole body bar. Produces wonderful bubbles while moisturizing your skin!
Ingredients: Saponified (Coconut Oil, Olive Oil, Rice Bran Oil, Shea Butter, Avocado Oil), Distilled Water, Orange and Clove Essential Oil
This soap is made using a wooden mold using the traditional cold process soap method. We always make our soaps in small batches to ensure quality and never put anything in our soaps that we wouldn't happily put on our skins ourselves. Each batch is tested and approved!
Each bar weighs approximately 4 to 4.5 ounces.
When we want to go beyond natural scents in our soaps, we always use phthalate-free fragrance oils. For this particular bar, we only use pure orange and clove essential oils.
***********
As this is a homemade soap and at the mercy of the chemical process of soapmaking, each batch may vary slightly in color.
Handmade soaps will last longer if kept dry between uses. Use a draining soap dish with your handmade, natural soaps to prolong their life!