---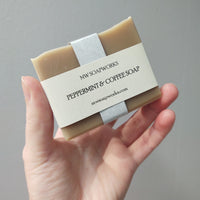 Peppermint & Coffee Soap
MW Soapworks
Peppermint & Coffee Soap - a delightful mint scent paired with real Organic Fair-trade Coffee.

It has that refreshing peppermint feel for the ultimate luxurious bathing experience. Gentle enough to be a whole body bar. Produces wonderful bubbles while moisturizing your skin! Featuring Bentonite Clay swirled throughout the bar.
Ingredients: Saponified (Coconut Oil, Olive Oil, Rice Bran Oil, Shea Butter, Avocado Oil), Distilled Water, Fair Trade Organic Coffee, Peppermint Essential Oil, Bentonite Clay

This soap is made using a wooden mold using the traditional cold process soap method. We always make our soaps in small batches to ensure quality and never put anything in our soaps that we wouldn´t happily put on our skins ourselves. Each batch is tested and approved!

Each bar weighs approximately 4 - 4.5 ounces.

When I want to go beyond natural scents in my soaps, I always use phthalate-free fragrance oils. For this particular bar, I only use pure Peppermint essential oil.


***********

As this is a homemade soap and at the mercy of the chemical process of soapmaking, each batch may vary slightly in color.

Handmade soaps will last longer if kept dry between uses. Use a draining soap dish with your handmade, natural soaps to prolong their life!